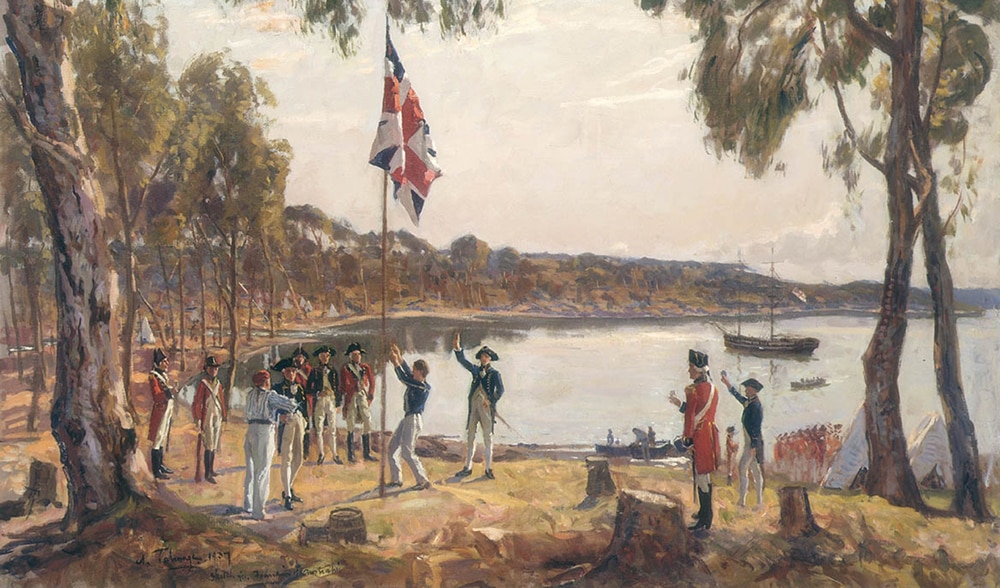 Australia Day is celebrated on January 26th each year. It is the commemoration of the time that the Union Jack was first raised on the shores of Sydney Cove. This is where European settlement began, to bring us to the wonderful, accepting , multi cultural, nation, that we are today. Sydney was settled as a penal colony back in the 18th Century, with the declaration of British sovereignty. At that time in human history the way of the world operated very differently. In that period of history, those who were the local indigenous inhabitants of this beautiful land, along with those other wretched souls, the convicts, times were indeed very cruel and despicable.
The painting above , is by an English artist Algernon Talmage 1872-1939. it was painted in 1937 and is held by the Mitchel Library, the state Library of New South Wales. One would assume it is held in perpetuity for ALL the people of Australia, with accompanying information for the world to read. See below.
Out of copyright: Artist died before 1955
Please acknowledge: : Mitchell Library, State Library of New South Wales
This work was offered for sale in 1999 by Hordern House, Sydney in their Rare Books, Manuscripts, Paintings & Prints catalogue, item no. 35. It had previously been in the possession of the late Douglas Hope Johnston. In 1937 Hope Johnston issued a printed version (ML ref. V1/1788/3). Another version was also published in 1937 by the Medici Society, London (ML ref. XV1/1788/3, 3a).
The Hordern House catalogue notes that: 'The selection of the artist and the responsibility for the historical accuracy of the picture were borne by Douglas Hope Johnston, the great-grandson of Lieut.-Col. George Johnston ... Hope Johnston was the founder of the Australasian Pioneers' Club and a keen student of Australian history.'
There are two finished versions of the painting, for which this is the preliminary oil sketch: In the Tate Gallery, London, dated 1938 and measuring eight by ten feet, presented as a Coronation Year gift to Great Britain by Mr M.F. (Frank) Albert of Sydney. It was loaned to the Australian Government for the 1938 Sesqui-Centenary Celebrations; the second large version, dated 1938, hangs in Parliament House, Sydney (colour transparency at ML ref. FM2/1803).
A tapestry based on the version of this work held by the Tate Gallery, London was unveiled in 1996 at the Royal Military Museum (Old Wardroom), Eastney Barracks, Portsmouth. The tapestry was woven by the Victorian Tapestry Workshop. (Information from Mr R.O. Albert, January 2001.)
Digital order no:a128112
Signatures / Inscriptions
Signed, dated and inscribed in black brushpoint lower left by the artist 'A. Talmage 1937 Sketch for Founding of Australia'.
Frame label lower edge centre with title and identification of (left to right): '1st Lieut. Newton Powell (i.e. Fowell)'; Lieut P.G. King R.N. H.M.S. Sirius'; Lieut George Johnston A.D.C.'; Capt. Arthur Phillip R.N.; 'Capt. David Collins Judge Advocate'; 'Commdr. H.L. Ball R.N. H.M.S. Supply'.
Australia has become one of the most desired countries for folk wanting to change their allegiance and start a new life. Australians are known for their friendliness, generosity and openness. We welcome those who wish to share our culture and way of life, our fabulous country with exquisite scenery and our remarkable Fauna and Flora.
I am forever grateful for those folk be they aboriginal or, convicts who were transported to this far away land, and even those who were the custodians of that time. I am grateful, dare I say, for the cruelty, sacrifices, for their collective hard work, brave spirits and amazing ingenuity, which is instilled in most of us as part of the "Australians" we are today.
Our beautiful Australian flag, is an apt reminder of where we are in the world. The fabulous colour of our skies and oceans, the beautiful stars of the Southern cross, the Federation star to mark our unification as one land, along with the Union Jack to remind us forever, of our harsh and cruel beginnings for both 18th century Indigenous and European folk'